'Forgiveness is the fragrance that the violet sheds on the heel that has crushed it.' (Mark Twain)
Our school value is forgiveness this term. Take a look at our prayer space in the classroom. One of the elements of this that we are trying to explore, is whether forgiveness should be a human right.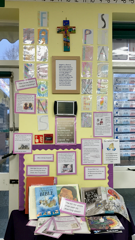 'With our thoughts we make our world'
This term we are journeying into the world of the fairy tale through the eyes of Neil Gaiman - can you discover what our key text might be from the above clues?
We will also be exploring the central belief system related to Buddhism; learning about the eightfold path and investigating the Universal Truths.
Our journey will involve how these two elements might be linked - providing us with lots of opportunities to 'think outside the box' and communicate our ideas in many different writing forms.
Book Week
Watch this space for some photos taken during our Book Week this term. We will be dressing up, meeting authors, entering into the Young Writer of the Year Award and above all we'll be
READING, READING, READING!