Area Winners!
Area Winners!
22 October 2015 (by annamayce)
We are the happy and proud winners of the Heathfield Area Primary Schools Year 5&6 football tournament.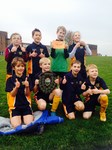 We were extremely proud of both of our football teams that took part in the Heathfield Schools Partnership Tournament last week. All players did their absolute best and for the first time in quite a few years, our A Team won the tournament! A large shield has been presented to our school. Mrs Cass is organising for it to be engraved and it will very soon be displayed in our school entrance for us to remember this amazing achievement. Well done all of you for brilliant team work and such positive attitudes and behaviour.