Athlete visit - Ezekiel Ewulo
Athlete visit - Ezekiel Ewulo
8 February 2018 (by annamayce)
Ezekiel Ewulo demonstrated how far he could jump during a whole school assembly. He inspired staff and pupils alike.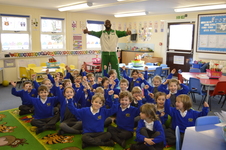 An international long jumper may have inspired Mayfield Primary pupils to follow in his steps after he came to visit us this week.
Former Team GB long jumper, Ezekiel Ewulo, paid pupils at Mayfield Primary School a visit, telling them about his career, answering their questions, and putting them through their paces with some exercises, before visiting them in their classrooms.