Nightingales Term 1
The Alchemy Lab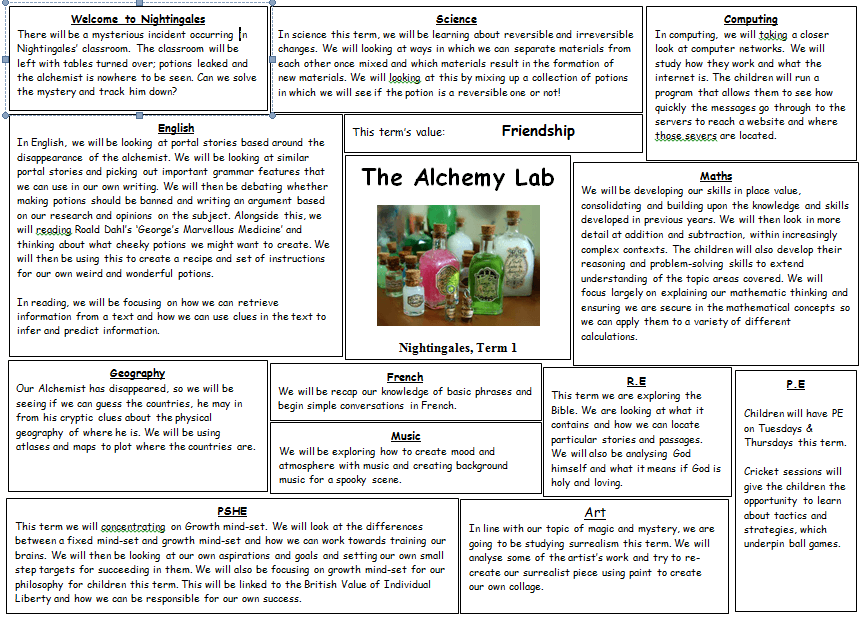 Ways to support your child further
General
Please ensure that the children are wearing correct school uniform at all times. A full list of school uniform requirements are on listed on the school website. Please follow this link:

http://www.mayfieldcep.e-sussex.sch.uk/about-us/uniform
All children need to have a labelled water bottle in school that they can keep in the classroom with them.
The children are encouraged to bring a fruit/vegetable snack in to eat at playtime. Having a healthy snack mid-morning helps them to maintain their focus on learning and ensures they do not become too hungry before lunchtime.
Support your child in completing their homework weekly.
English
Encourage your child to read daily and discuss the stories they read with them. The children continue to need a reading book in school with them every day.
http://www.crickweb.co.uk/ks2literacy.html

- there are a range of games for the children to play to support them with all aspects of English
Maths